Founder and Lead Evangelist
Jason Cline Hale has served as a part-time/full time youth minister for over 20 years.  He has lead groups on domestic mission trips as well as numerous other activities.  In Feb. 2019, he stepped down from full-time youth ministry to focus on Street Ministries 25:40 (Matt. 25:40).  He began this ministry in hopes to bridge the gap between those on the "street" and local churches.   He also has taught public school as he still holds a Texas Teaching Certificate.
Jason graduated from Sunset International Bible Institute in 2002, holds a BA in Composite Social Sciences with Teacher Certification from Sul Ross State University and also attended SWTJC (AA Degree).  He is married to Courtney Hale and is the father of Preslie and Pierce Hale and Holly Hernandez.  His favorite verse is 1 Samuel 16:7.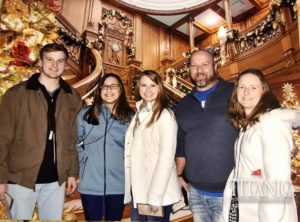 Jason's Family Pierce, Holly, Preslie, Jason and Courtney (taken in Branson, MO)