Evangelist
Jason Hollinger has worked in ministry for 20 plus years.  He began working as a Volunteer/Part-Time Youth & Family Minister, but has also worked in Child Care at the Children's Home of Lubbock and as a House Parent for the Texas Boys Ranch in Lubbock.  Jason went on the spend 16 years in Youth & Family Ministry.
Jason is a graduate of Sunset International Bible Institute.
After spending the last 6 years as the Preaching Minister at Murray Street Church of Christ in Rockdale, Jason and his family have moved to Lufkin, TX where Jason serves as the Preaching & Community Minister and his wife Sarah is the Church Secretary. Together they have 4 children and have been married since 2001.
Jason's favorite verse is Jeremiah 29:11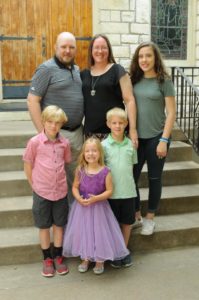 Jason Hollinger with his family